Having a pool party is a fantastic idea for a kids' birthday party. The combination of water, games, and fun creates an unforgettable experience. To help you plan the perfect pool party for your little ones, we have put together this pool party guide. Follow these tips and tricks to ensure a splashing good time!
Choose the Perfect Venue
The first step in planning a successful pool party is finding the perfect venue. If you don't have access to a pool at home, consider checking out local community centers or public pools that allow party rentals. Make sure the venue has suitable facilities, such as changing rooms and adequate supervision.
Send Out Invitations
Once you have secured the venue, it's time to invite your guests. Create playful and colorful invitations that reflect the pool party theme. Include all the necessary details such as date, time, location, and RSVP information. You can also mention any specific items that the guests should bring along, such as swimwear or towels.
Safety First
Safety should always be the top priority when planning a pool party for kids. Ensure that there are enough lifeguards or adults who are proficient swimmers to supervise the children. It's also essential to establish clear pool rules and designate areas for different age groups. Remember to provide life jackets and floatation devices for those who need or want to use them.
Decorate the Party Area
To create a festive atmosphere, incorporate pool-themed decorations. Hang inflatable beach balls, colorful banners, and streamers around the party area. You can also set up a designated area for pool toys, such as inflatable animals or water noodles. Use waterproof tablecloths and plates so that the kids can enjoy their snacks without worry.
Plan Fun Games and Activities
Organize a variety of water games and activities to keep the kids entertained. Popular options include pool volleyball, water balloon toss, and relay races. Plan age-appropriate activities to ensure everyone can participate. You can also set up a mini water slide or a sprinkler area for the younger guests who may not be confident swimmers yet.
Prepare Refreshments
Pool parties can make kids thirsty and hungry. Prepare a refreshing and kid-friendly menu for the party. Finger foods like sandwiches, fruit skewers, and popsicles are always a hit. Keep plenty of cold beverages on hand, such as water, juice, and lemonade. Don't forget to have a designated area for snacks and drinks that is easily accessible for the children.
Capture Precious Memories
Make sure to have a designated photographer or create a photo booth area to capture the fun-filled moments of the party. Provide props such as sunglasses, water guns, and inflatable toys to enhance the photo-taking experience. Later, you can share the pictures with the guests as a lovely memento of the special day.
Provide Party Favors
Send your guests home with party favors to thank them for attending your child's pool party. Ideas for party favors can include mini water guns, beach balls, waterproof stickers, or sunscreen. Personalize the favors with each guest's name to make it extra special.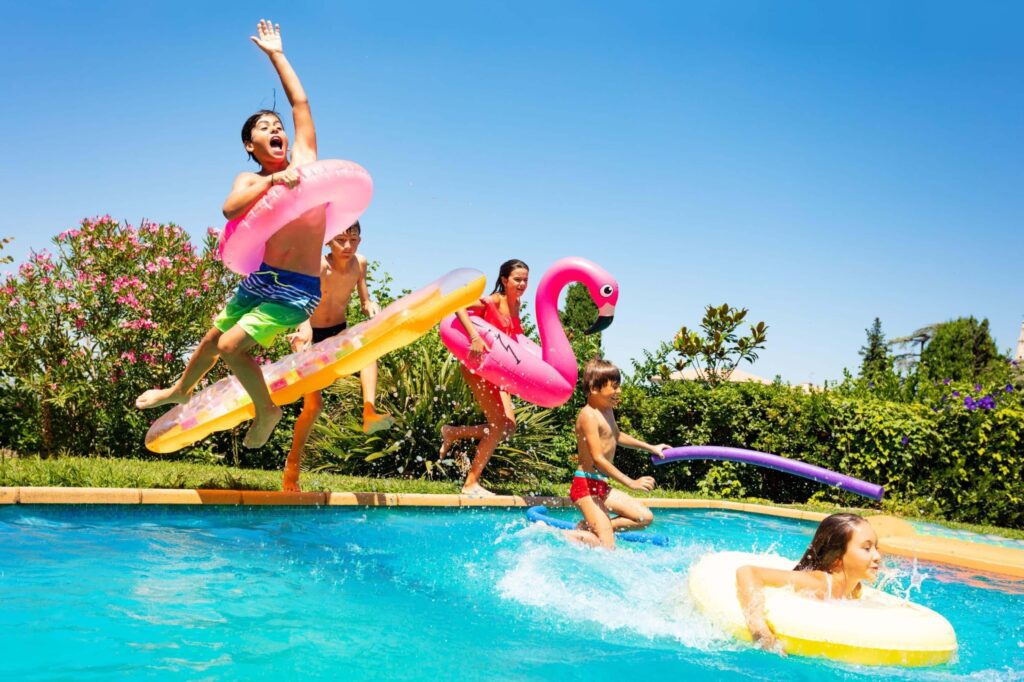 With this pool party guide, you can now plan an unforgettable celebration that your child and their friends will cherish forever. Remember to prioritize safety, have fun activities planned, and provide plenty of refreshments. So, get ready to dive into the fun and make a splash at your kid's next pool party!